Accomplished musician, composer brings harmonica concerto to ESO; Howard Levy helps launch ESO's new season this Saturday
What did YOU do during COVID-19?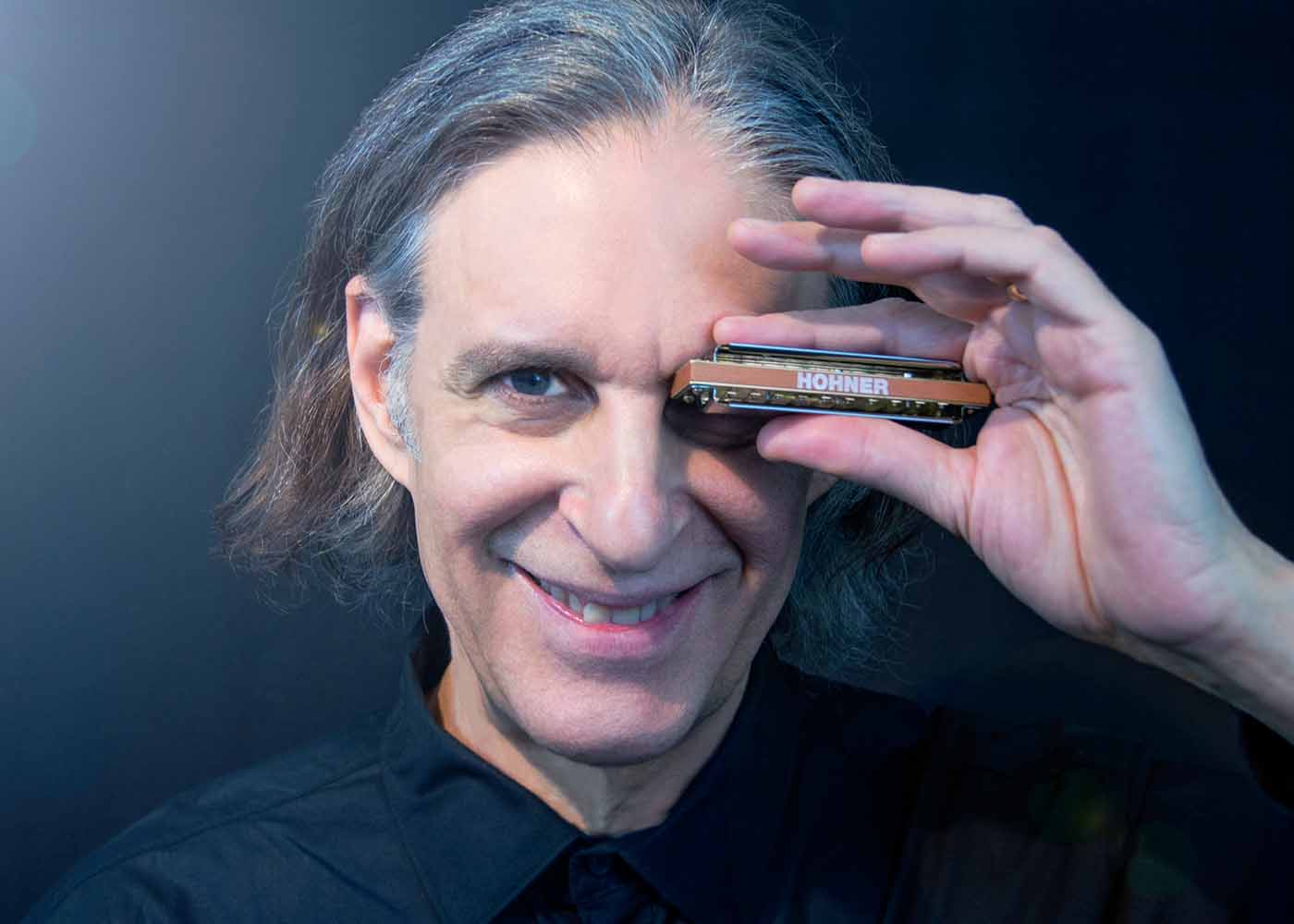 "I got it in March of 2020; my wife saved my life," said Howard Levy, an accomplished musician who has spent most of his career—really, since childhood—devoting his passion to what some might call an unusual instrument: the harmonica. "I used that time [during COVID] to develop my musicality and managed to put out three CDs and wrote a book. I also did regular broadcasts online, performed 10 different music concerts and gave the money to the Chicago Food Depository to help the hungry."
Levy has written a Concerto for Diatonic Harmonica & Orchestra and will be performing it on Saturday, Sept. 24 with the Elmhurst Symphony Orchestra, beginning at 7 p.m. at the Elmhurst Christian Reformed Church. Tickets were still available at press time, so for more information, call 630-941-0202 or visit elmhurstsymphony.org.
Other selections of the concert repertoire include Smetana's Overture to The Bartered Bride; Chabrier's España; Korsakov's Capriccio Espagnol; and, Weinberger's Polka and Fugue from Schwanda the Bagpiper.
This is not Levy's first connection with ESO Conductor and Musical Director Stephen Alltop.
"We have collaborated in the past—him on harpsichord and me on harmonica—performing a Bach flute sonata," he said. "Saturday's concert is our reunion."
Levy began playing piano at 8½ years old and attended the Manhattan School of Music in New York City from ages 9 to 12, where he began improving and writing his own music. Then he fell in love with rock and roll, the blues and then, jazz.
"From hearing Chicago blues players, I moved here to go to Northwestern [University]," he said. "Then I started harmonica, tootled around and never really succeeded, but then suddenly was able to play blues licks at 18 years of age!"
Levy performed with the Northwestern Jazz Band while attending classes.
Interesting facts about the harmonica
The first harmonica came from southern Germany in the 1820s, but the Asian mouth organ was its predecessor. Levy is not sure, but he believes the harmonica may have been inspired by European explorers coming to Asia. There are two types of harmonicas: the diatonic, which is for blues and folk music, and the chromatic, which is used more for jazz.
The harmonica is very popular in many countries, especially China, Korea, Japan and southeast Asia, where they have actual harmonica orchestras, which perform at the Asian Pacific Harmonica Festival.
"The harmonica is a big part of their education programs over there," he said. "They start teaching the harmonica in kindergarten."
Learning his own lessons on the instrument
"My first realization about the harmonica is that it doesn't have all the notes," he said. "In fact, I was the first person to get a full harmonic scale out of a harmonica—I didn't realize I was the first person to do it! But from the beginning, I approached it differently because of the blues quality it makes."
Another thing that makes it a strange instrument is that "you can't see what you're doing!"
"It's the only instrument that doesn't involve the player seeing anything—not your fingers, not your instrument—as you play," Levy said. "I took a different approach. I closed my eyes and started realizing that notes were missing, even for a major scale.
"It's also the only wind instrument that uses the breath in both directions, blowing and drawing [breathing in and breathing out]. You can't bend notes, but the [diatonic harmonica] has such a soulful and human sound, that is how I got interested in expanding it and writing my own music."
He then came to realize another revolutionary concept that would open doors for him in the world of harmonica music.
"I began applying the blow and draw matches with a drummer's right and left hands," he said. "[In the book] I've organized an entirely new approach that unlocks and opens the harmonica's secret dimensions for players of all skill levels and styles."
Levy's wife helped him write the book Rhythms of the Breath: A Revolutionary Way to Transform Your Harmonica Playing, for Diatonic Harmonica in C. Levy admits he began writing partly just to channel his energies during the many months of COVID-19. Available on Amazon, the book details new playing techniques developed by Levy, using the breath.
Levy has released 400 CDs and has received two Grammy awards. He was even a featured solo musician on the movie soundtrack for A Family Thing, starring James Earl Jones and Robert Duvall.
"I loved playing in Brazil," Levy said. "I have played with a lot of Brazilian musicians. I really learned to appreciate Spanish music; it offers a deep experience that's almost mystical. I have used world music styles since I was in my 20s, such as Eastern European, Romanian, Greek, some of those creep into my writing."
Asked about Saturday's concert, Levy had this to say:
"The opening is very Scottish sounding. The concerto is a classical piece in three movements. I improvise in the first movement, so every performance is a little different. But it is very classical sounding with Irish and Scottish tones. Those musical fragments were bouncing around my head at the time I was composing."
At this time, Levy especially enjoys and values performing for an audience again after being down due to COVID-19.
"Some kids are natural at painting or at sports; I was a natural at music and performing," Levy said. "After having to give up live audiences for such a long time, it feels even more special now. Every performance is a gift."
For a sneak preview, search Howard Levy on YouTube or visit his web site at levyland.com. For tickets to the concert, call 630-941-0202 or visit elmhurstsymphony.org.