Women Who Care group gives $15K to 'Warm Coats for Cool Kids'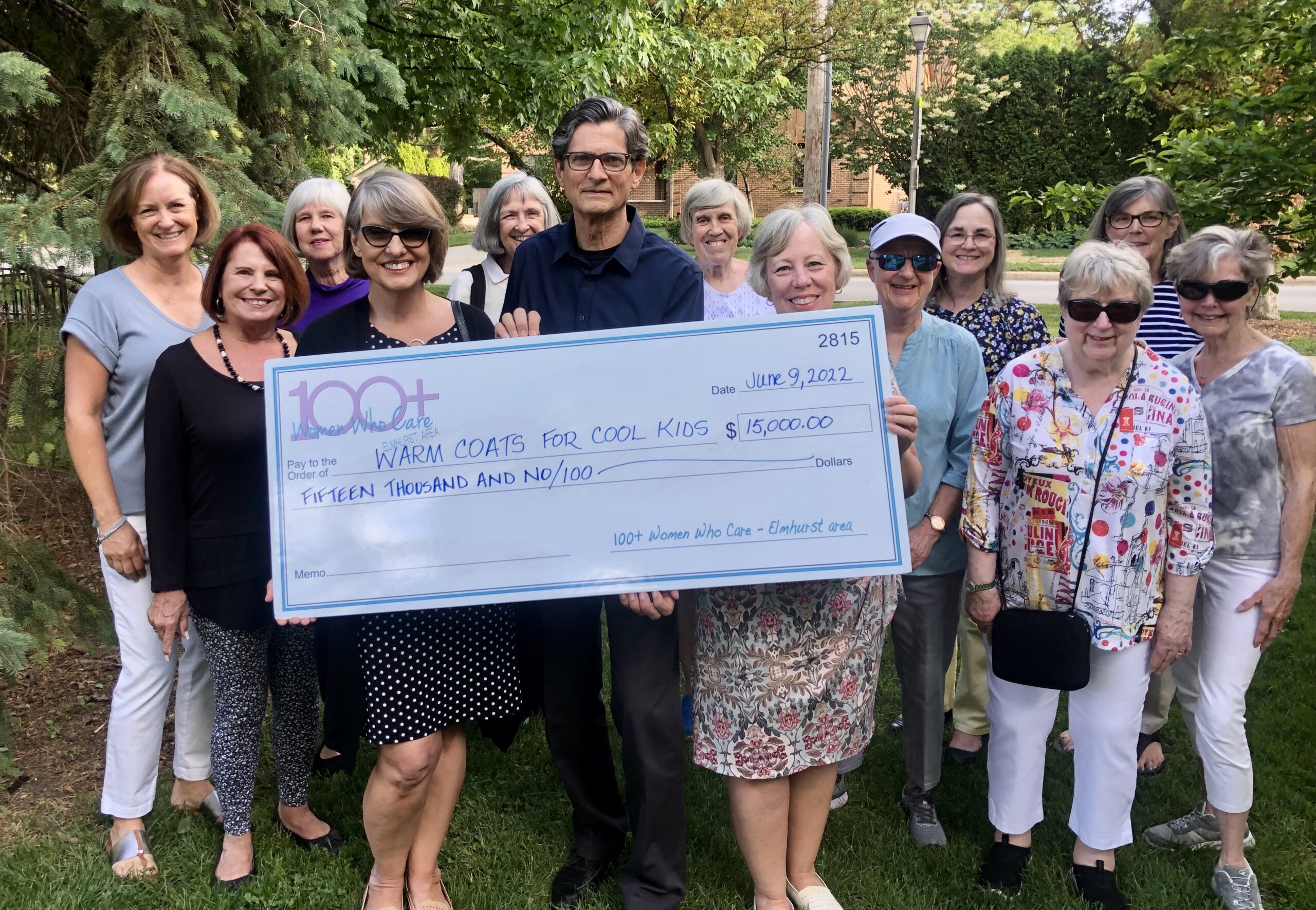 At its May meeting, the Elmhurst chapter of 100+ Women Who Care (WWC) awarded $15,000 to the Elmhurst-based nonprofit organization, Warm Coats for Cool Kids, operated entirely by Garry and Debra Vaccaro, who take no salary or compensation for their efforts. The mission of Warm Coats is to provide new winter coats to children in need.
Garry and Debra Vaccaro, who have been Elmhurst residents for 35 years, founded Warm Coats in April 2021.  With the help of many volunteers, they were able to distribute more than 950 coats last year. As the recipient of these funds, Debra told the WWC that Warm Coats for Cool Kids would be able to expand its mission and include more children in need.
Warm Coats works with social workers and local schools to identify children in need of a new winter coat. Once this process is completed and children are registered, Warm Coats holds coat distributions, where each registered child is assigned a volunteer "shopper." The shopper helps children choose a coat from multiple colors and styles and ensures a proper fit. This manner of distribution gives the child a more dignified manner of selecting a new coat and offers pride of ownership.
"I am grateful to be a member of 100+ Women Who Care, a group of women committed to improving lives in our community," said Elmhurst resident Betty Laliberte. "Our collective gift to Warm Coats for Cool Kids will provide coats and comfort for children in need and allow Garry and Debra to accelerate their vision to impact families."
"Last year, Warm Coats was able to provide outerwear for more than 950 children," Debra said. "Thanks to the generous donation from Elmhurst 100+ Women, the organization will be able to exceed its goal for 2022."
Warm Coats will be at the Elmhurst Back to School Fair on Saturday, Aug. 6 at York High School from 10 a.m. to 2 a.m. Warm Coats is an all-volunteer not-for-profit organization and every dollar donated is used to purchase coats. For more information about Warm Coats for Cool Kids, visit warmcoats-coolkids.org.
More about Elmhurst 100+ Women Who Care
The Elmhurst 100+ Women Who Care giving circle, founded in 2013, was recognized this past May by Elmhurst Mayor Scott Levin for donating more than $500,000 to local non-profits. The group is dedicated to leveraging individual donations to make a greater impact. The next meeting will be held on Monday, Aug. 1 at 7 p.m. at Angelo's Ristorante in Elmhurst. For more information about joining, visit 100elmhurstwomenwhocare.weebly.com or send an email to elmwomenwhocare@gmail.com.