Washington Street resident takes Honor Flight to Washington; Neighbors decorate lawn; unexpected delay on the trip home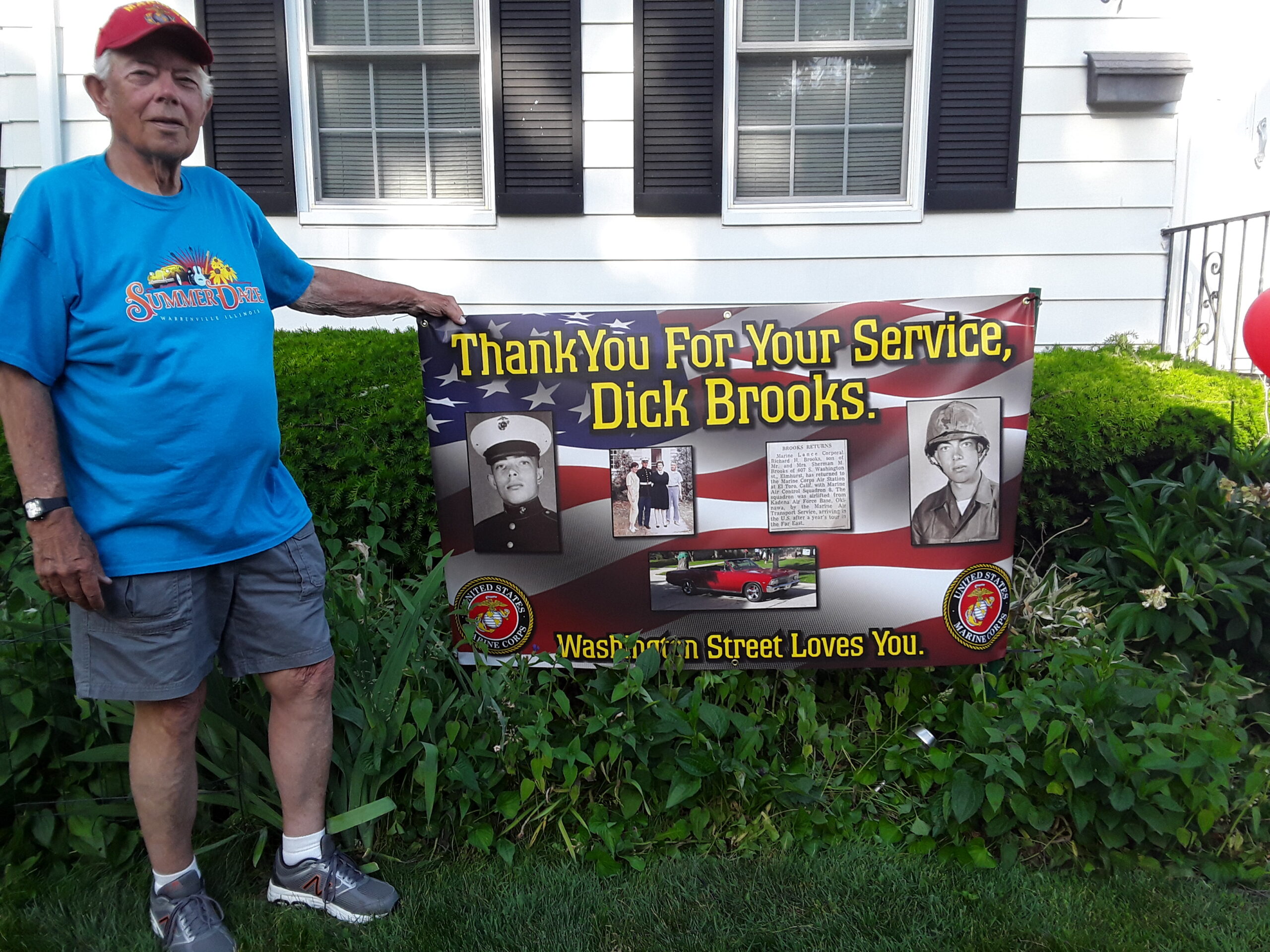 "It was a very special day that I will never forget. It was right up there with getting married and the birth of my son."
Those were the words of Dick Brooks upon returning to his home on Washington Street in Elmhurst after taking the Honor Flight to Washington DC recently.
As a send-off, Brooks' neighbors came out and decorated his front lawn with flags and a banner that included photos of him when he served in the U.S. Marine Corps during the Vietnam era.
Then it was off to the airport where Brooks met other veterans who were coming along on the trip.
Arriving in Washington was breathtaking, especially to a soldier who recalls being booed and ridiculed, called names and receiving the "middle finger" upon his arrival home back in 1966.
"There was a band playing and water cannons were spraying over the plane when we arrived," Brooks said. "The whole tramway was lined with first-responders, thanking us for our service. There were crowds of people cheering."
Brooks said 15 motorcycle police led their way to the memorials they were planning to tour.
"They had blocked all the entrances onto the highway where we traveled, just like we were in a presidential motorcade," he said. "We were in six big vehicles traveling along, with all those exits blocked off. I'm sure there were people who were pretty upset at the traffic delay because people really couldn't tell we were with the Honor Flight. There were signs in the windows of our vehicles, but they were very small."
As they toured the war memorials, there was a point that everyone was in wheelchairs—even the able-bodied like Brooks.
"I was a little embarrassed to have a Marine Corps Major pushing me around," he said. "I was only a Corporal!"
Then they went to the Air and Space Museum, which was very impressive to Brooks.
"They had one of the space shuttles, the bomber plane—the Enola Gay—that dropped the first [atomic] bomb [on Japan during World War II], there were Mercury [space] capsules, and just all kinds of aircraft, rockets and missiles," Brooks recalled.
Returning home after such a trip should have been smooth sailing after a successful day, but alas, it was not.
"Coming back, our plane had 31 rows with six seats across and, because of all our veterans, there were 200 wheelchairs," he said. "Someone announced, 'This plane can't go to Chicago,' and we thought it was a joke."
It turned out that someone apparently screwed up because that plane had recently had a maintenance issue and should not have been scheduled for that flight.
"We all had to unload—including all 200 wheelchairs—and go back inside the terminal" Brooks said.
Long story short, the flight that was supposed to arrive back in Chicago at 8:30 p.m. did not arrive until 1:45 a.m.
and even then, they came through a nasty storm that had the plane actually moving sideways at certain times.
If you've heard about Honor Flight, you may know that Honor Flight veterans typically come home to a huge crowd of people bearing flags and banners and a band playing. Well, that's what happened to Brooks' group—all the volunteers and the band stayed and performed their duties until everyone was off the plane and back in the terminal—even though it was almost 2 a.m.
Upon return, the Honor Flight holds "mail call." Brooks received two huge bags of mail—more than anyone else who took the trip.
"My wife did a lot of work behind the scenes to get a whole bunch of people to write me letters," Brooks said. "I had letters from current neighbors, old neighbors, relatives from New York, even her old roommates. And then of course, the school kids. Some of the neighbor kids wrote cards, I even got cards from the dogs on our block!"
It was a great experience for an "old guy of 81," Brooks said.
"They made me feel like a hero," he said. "After we got back (from serving in 1966), we were warned not to wear our uniform and to always wear a hat to cover your shaved haircut. People spit at us, gave us the finger, booed at us, it was pretty terrible.
"This experience made up for it all."
It's a small world after all
One of his "small world" experiences was finding out the person in charge of the Honor Flight was another resident of Washington Street in Elmhurst.
Brooks also told of going on R&R with four buddies in Hong Kong back during his time of service. They stayed at the Presidente Hotel because the soldiers knew it was the only hotel that offered bar service after midnight.
As the five walked through the lobby, Brooks commented that he thought he saw someone he recognized.
"Oh sure you do," his comrades said, mockingly.
"Suddenly the girl came running up and says 'Dick Brooks, you S.O.B., what are you doing here?" Brooks recalled. "It turned out to be someone I knew from high school; our mothers had worked at the hospital together, and our dads had both been members of the Villa Park Men's Garden Club."
Brooks served in the U.S. Marine Corps from May 6, 1962 until Sept. 6, 1966.
"We had an extra four months," he said. "They called it an involuntary extension."
He was trained in California where he attended electronics school. His unit was sent to Japan to test a prototype of a piece of radar equipment.
"We went to Okinawa to test it before it could be used," he said. "One of the helicopters crashed and burned. The guys got out in time, but a key piece of equipment got ruined and, well, it was a prototype, so there were no parts or pieces of equipment to repair it. We were supposed to go near Da Nang but we never got that far."
Besides the Good Conduct Medal, Brooks received a "Leatherneck Award" after being named Marine of the Month. He set a record on the rifle range.
"I even appeared in Leatherneck magazine," he said.
His thoughts on service and war in general
"We did a lot of good that people don't know about," Brooks said. "We built schools, for example. The guys who served in Afghanistan and Iraq, well, it was a whole different ball game because the enemy doesn't wear uniforms. The guys today have it a whole lot tougher than we did."
And his thoughts on war in general.
"It seems like we're always fighting for someone else," Brooks said. "We're always fighting someone else's war. I realize the other countries ask us for help. I feel bad we didn't do more for Ukraine; we should have done more sooner.
"War is war, it's never good. The civilians seem to suffer more than the soldiers. In Ukraine, well, you just can't believe the destruction they've brought upon that country."
When asked, Brooks couldn't single out his favorite part of the trip. He said it was all magnificent.
"The whole thing was the people," he said. "My neighbors, the Honor Flight, the guys on the flight, the people in Washington, they all made it special.
"I was just an old guy on Washington Street. Now I finally feel like a hero."