Montini Catholic's Golden Gobbler celebrates 25 years; Alumni recall earlier years of food drive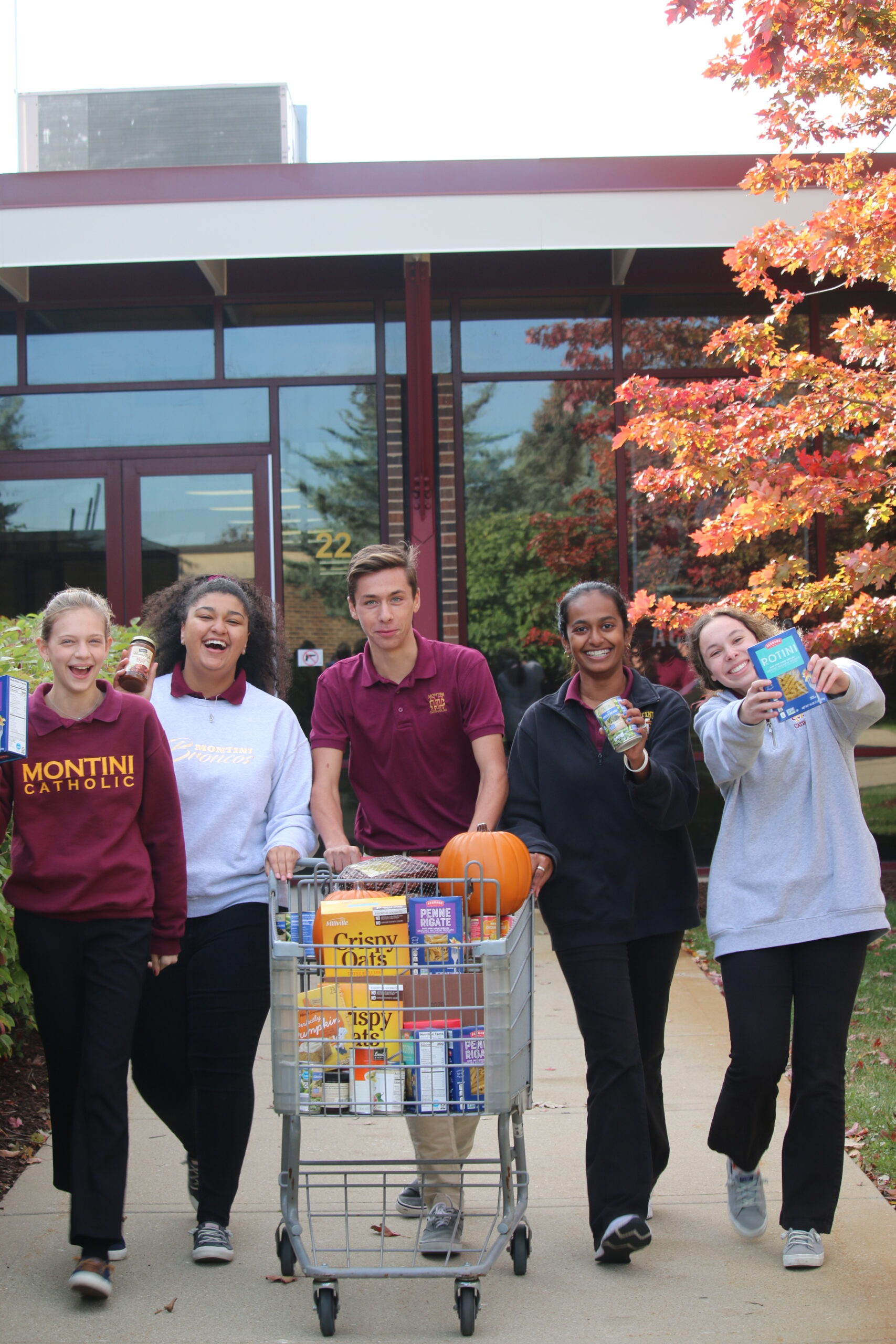 In the fall of 1997, under the leadership of then-principal Jim Segredo (now president), Montini Catholic kicked off its first-ever Golden Gobbler Thanksgiving Food Drive. Since then, every year when the air turns crisp, clocks get set back and Bronco sports fans bid adieu to their fall rivalries, Montini students gear up for their annual food collection.  This year marked the beginning of Montini's 25th 'Season of Giving' with the onset of Golden Gobbler and Adopt-a-Family.
This year's Gobbler kicked off on Monday, Nov. 15 and included a week-long giving campaign leading up to Thanksgiving.  This year, there is a friendly competition between students and Montini alumni who have been asked to get involved by 'competing' and contributing grocery store gift cards. Contests between classes help fuel the drive to donate 'just one more item' to the stockpile.
But, it's the students and their own desire to give to those in need who truly power the food drive each year, according to Campus Minister Mike Blanchette.
"Golden Gobbler has always been a good experience for our students," Blanchette said.  "When they help deliver the donations to our 'adopted' families, they get to see the joy on the faces of the children we have helped. They realize the true meaning of Thanksgiving by participating in Golden Gobbler. It offers us all an opportunity to reflect on our blessings in our lives and to share them with others in need.
Blanchette said the effort primarily supports the food pantries at Christ the King, St. Pius X and Woodridge. Additional food is also given to the families from Clearbrook and Eisenhower Co-Op, agencies which serve families with children with disabilities. He noted that Katie (Laurinaitis) Modglin ('04) is currently a teacher at Eisenhower.
In 2016, Katie visited Montini to speak to the students about the good work they were doing through Golden Gobbler and to thank them for their continued support.
"God is everywhere at Montini," she said. "He has given you all the gifts of kindness and compassion and these are amazing gifts. So the next time you have a rough day, I ask you to think of my kids and know that you have made a difference in their lives and for that I thank you."
Alumna Michelle (Ptak) O'Connor ('88) vividly remembers the earlier years of the Gobbler, when Segredo, as principal, would get the kids fired up.
"Jim's energy was so infectious when it came to the Golden Gobbler," she said. "Every afternoon he would enthusiastically update the students on the daily donation totals and give the leaderboard results of the homeroom competition. The announcements would always start with the 'Gobble Gobble' sound effect – that grabbed everyone's attention! The kids really responded to Jim's energy and passion — he really helped establish that same passion in them – which is why 25 years later the Golden Gobbler is still so successful."
Montini Catholic families are very proud of celebrating this 25-year milestone —  25 years of donating, counting, boxing, organizing and delivering Thanksgiving and Christmas joy to grateful families and food pantries throughout the western suburbs.
[Elsewhere in this issue, there is a story and photos about Jim Segredo's 25 years at Montini.]