Thornton's Gas Station in Elmhurst robbed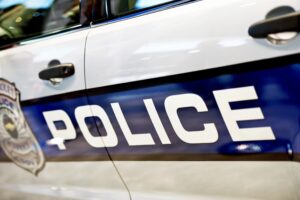 Elmhurst Police are investigating a reported robbery that occurred on September 20th, 2021 at approximately 1:45 PM at the Thornton's Gas Station located at 476 N. York, Elmhurst, IL.  The offender was described as a light complexion black male approximately 6'4'' and 25-35 years of age with a small lateral scar on the front of his neck. He was also described as medium build wearing a blue/white surgical style mask, a gray/white hoody, and dark blue running pants with a lighter blue stripe.
The male offender walked to the cash register to make a purchase.  Once the cash register was opened, the offender jumped over the counter and attempted to pull the cash register away from the clerk.  The offender grabbed cash from the open cash register and then fled the store running N/B and then W/B along Lake Street.
Elmhurst Police responded to the area and completed a search with the assistance of the DuPage County Sheriff's Department K9 Bloodhound unit.  Local schools were put on temporary soft lock down while this search was completed and until it was determined that the offender was no longer in the area.
This incident remains under active investigation and anyone with information on the identity of the offender is asked to call the Elmhurst Police Department at 630-530-3050.