Elmhurst's effort to make a difference; Group led by Pilot Pete's distributes 2,000 coats to homeless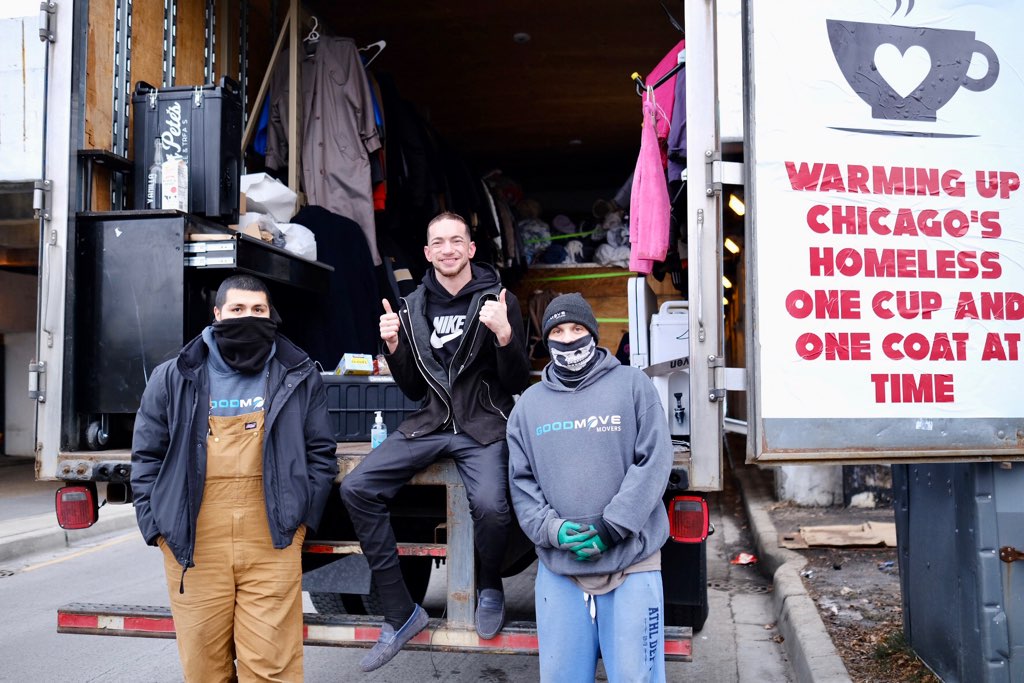 On Wednesday, Jan. 13, a crew of local volunteers gathered at the Elmhurst Metra Station to take part in Pilot Pete's 9th Annual Coat Drive. Peter Thomas, a/k/a Pilot Pete, who owns the coffee shop inside the station, orchestrated the effort to bring more than 2,000 coats to the homeless in Chicago.
He began by converting a 26-foot moving truck into a pop-up "Coffee with a Purpose" coat store.
After a great deal of organizing, sorting and separating, Pete and the crew traveled to downtown Chicago and made six stops, including along lower Wacker Drive and Michigan Ave., the Uptown neighborhood and Pacific Gardens Mission.
Individuals at the stops were invited to enjoy a free cup of coffee and a bakery item inside the truck and to "shop" from a selection of coats, as well as blankets, scarves, hats, gloves, boots and toiletries — all donated and sorted by local residents.
Pilot's Pete provided 40 gallons of coffee; Rough Edges Confectionery of Elmhurst donated 300 baked goods; the truck and a driver were provided by Good Move Movers of Elmhurst; signage and custom decals for the truck were created by Angel Fancy Design Studio of Elmhurst.
"This was the seventh year we've made this effort," Thomas told the Independent in an exclusive interview. "This year was the biggest it's ever been. With COVID, there are more people in need than ever."
He was pleased at the number of volunteers who came forward.
"I don't know if they're tired of being home or not, but it seems like a lot of kids liked finding something positive to do," he said. "Over the Christmas holiday, we were receiving as many as 200 coats a day on average. Everyone was in a giving mood and we are happy to provide a portal to receive donations from the community."
After the collection is when the real work starts. Volunteers sorted the donations; removing mismatched socks, separating children's clothes from adults, male from female, sizes S-M-L-XL, etc. 
"At the time we made this effort, all the shelters were on lockdown as well, no one was allowed in or out, that is, once you're out, you can't get back in, so there are more and more homeless people," Thomas said. "This is a good year to be extra giving."
The group went to 51st Street and the Dan Ryan along the viaducts as well as those near Roosevelt and Taylor, Lake Shore Drive and Lawrence, Belmont and Kedzie and others.
"It was cool to see the kids taking part," Thomas said. "I feel like my generation was the last one to do things like shoveling driveways, that is, doing neighborly thing. It is nice to see kids come in – they asked a lot of questions about the homeless, asked if it was safe and did it ever feel unsafe performing this service. I had to say in all seven years, I have never felt fearful or threatened, but I understand how people might think about that."
Thomas said that talking to the homeless people was a good way to get their point of view.
"For instance," he said, "all the homeless under the viaducts try to stay on the down low, they don't want to draw attention to their living quarters. Neighbors don't like it, they want homeless out of sight and the homeless know that and do their best to honor that."
Thomas had many people to thank for their assistance with the effort.
• Margie from Angel Fancy Design Studio on Spring Road custom-printed more than 100 feet of vinyl to wrap the truck.
• Kai Sison from Rough Edges Confectionery, who provided 300 individual bakery items with just a 48-hour notice.
• Chris Dunne, owner of The Good Move Mover of Elmhurst, provided not only the truck but two movers – Manny Gonzalez and Raffi Ortiz. They were pulling the ramp in and out at every stop.
Asked what struck him the most this year, Thomas had this to say:
"This year, it was the realization that our problems aren't really problems, ours aren't that bad compared to what others are going through and what they look at daily – looking for their next meal, they are very humble, very grateful. Some of them even try to turn [the coats] down, they say, 'oh, give it to someone who REALLY needs it.'
"You never know where someone has been or what someone's been through before meeting them. With the homeless, we treat everyone the same or equal."