Four men accused of breaking into Lombard apartment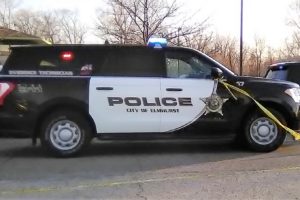 Following alleged robbery, suspects lead high-speed chase thru Villa Park, Elmhurst
DuPage County State's Attorney Robert Berlin and Lombard Chief of Police Roy Newton have announced that bond has been set for Mashawn Barnes, 27, of Chicago; Kevin Jones, 31, of Chicago; Calvert Williams, 29, of Matteson; and Dion Young, 20, of Chicago, who appeared in bond court where Judge Kavita Athanikar set bond at $2 million with 10 percent to apply for all four men.
All four men have been charged with one count of armed robbery (Class X felony). In addition, Williams, Jones and Barnes have been charged with one count of unlawful use of a weapon by a felon. Young also has been charged with unlawful use of a weapon, and Barnes also has been charged with one count of aggravated fleeing and eluding. Because the crime was allegedly committed with a gun, sentencing requires a 15-year add on, making the defendants eligible for a penalty of between 21 and 45 years in the Illinois Department of Corrections if found guilty.
At approximately 3:35 p.m. last Friday, Lombard police officers were dispatched to an apartment on Foxworth Boulevard in response to an armed robbery that had just occurred.
It is alleged that as the victim and her daughter entered their apartment building, two men, armed and wearing masks, entered the building before the door closed. It is alleged that the men pointed a gun at the back of both the woman's and her daughter's heads and ordered the victim to take them to her apartment. It is further alleged that once inside the apartment, the men tied up the woman and another occupant who was found sleeping in the apartment.
The men then allegedly stole money, a handgun and other items from the apartment before fleeing in a vehicle waiting in the parking lot. The female victim was able to free herself, call police and identify the vehicle in which the men allegedly fled. It is alleged that as the men fled, Lombard officers responding to the call observed the vehicle in which the men allegedly fled and attempted to initiate a traffic stop.
The defendant's vehicle allegedly did not stop and accelerated away rapidly reaching speeds of up to 75 mph on a 35 mph portion of Roosevelt Road. Following a chase that involved the Lombard, Elmhurst and Villa Park Police Department, the vehicle came to a stop near Villa Avenue and North Avenue where it was involved in two separate crashes. It is alleged that four men then fled the vehicle. Mashawn Barnes was apprehended just north of the abandoned vehicle while the other three men were apprehended without incident in a wooded area nearby.
"The terror allegedly caused by these men—forcing their way at gunpoint into an innocent woman's apartment, tying up their victims and stealing money, other items of value and a gun before fleeing is almost unimaginable," Berlin said. "Following this, the men then allegedly led police on a high-speed chase during rush hour showing a complete and utter lack of respect for law enforcement and for the lives of countless motorists. Thankfully, no one was injured either at the apartment or on the streets.
"I would like to thank the Lombard, Elmhurst and Villa Park Police Departments for their work in quickly apprehending the suspects in this case."
"The brazen actions and use of high-powered weapons allegedly used in the commission of this crime and subsequent high-speed chase put many innocent lives in danger," Newton said. "Thankfully, our officers were able to bring the suspects into custody before anyone was hurt."
The cases against all four men have been assigned to Judge Miller. Their next court appearance is scheduled for March 18 for arraignment.