Obituary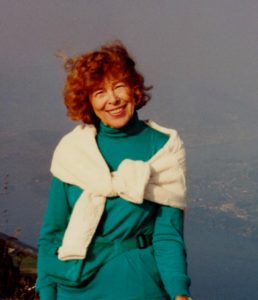 Rosemarie T. Cruger-Parent (Mueller) of Elmhurst, 92
Mother of Hank Cruger, Jack (Kim) Cruger, James (Marie) Cruger, Peter Cruger and Sarah (John) Vasak. Grandmother of Matthew (Brook) Cruger, Kathleen Cruger, Michael (Becky) Vasak, Thomas (Elyse) Vasak, Madeline Cruger, Jacob Cruger, Leah Cruger, Deborah Cruger and Jack Cruger.
She was preceded in death by her parents, Charles and Bertha Mueller of Elmhurst and her siblings Carl Mueller, John Mueller, Robert Mueller, Agnes Murphy and Mary Helen Walsh.
She is a native of Elmhurst who attended Immaculate Conception High School and Mount Mary College in Milwaukee. She was close to her childhood friend Pat Brennan of Elmhurst whom she met in first grade at IC Grade School.
After college she worked for Dr. Bill Murphy, a long-time Elmhurst dentist and husband of her sister Agnes.
Rosemarie married Mel Cruger, long-time publisher of the Elmhurst Press and Press Publications. When Rosemarie Mueller married Melvin Cruger, he was the third generation of Crugers in the newspaper business at Press Publications, located in Elmhurst.  Upon Melvin's death in 1983, Rosemarie served as Publisher and Chairwoman of the Board of Press Publications and, along with all her children, grew the business to a group of 42 newspapers serving DuPage County.
After retirement, she often visited many friends in the Wheaton area, where the Crugers once lived. In 1992 she married Warren Parent of Wheaton, Illinois, who was active in the Wheaton Drama Club, along with Rosemarie, in the 1950's and 60's. Mr. Parent passed away in 2008.
Throughout her life, she enjoyed many summers in Door County along with the extended Murphy family of Elmhurst.
A mass celebrating her life was held on August 11 at Immaculate Conception Church in Elmhurst. In lieu of flowers, memorials can be made to Immaculate Conception Church, 134 Arthur Street, Elmhurst, IL. 60126. Arrangements by Ahlgrim Funeral Home.