Anthony Edward Parus, 96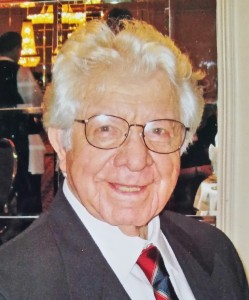 Memorial service takes place Oct. 31
Anthony Edward Parus died peacefully at his home in Elmhurst on Friday, Oct. 16, 2015, at the age of 96. He was a remarkable man whose life reads like an action adventure. Born in Katy, Poland, on Sept. 14, 1919, to parents Edward and Teodora (Parafimowicz) Parus, Anthony attended the University of Poznan until World War II broke out, then took part in the defense of Warsaw.
His fluency in five languages aided him in many narrow escapes throughout the war. The first was his escape from Poland to Hungary, and eventually to France where he joined the Polish Free Forces. After France capitulated in June 1940, Anthony was captured by Germans and spent eight months in a prisoner of war camp. Again, he endured another harrowing escape using his language skills, traveling from Germany to France, Spain, Gibraltar, and then to England to join the Air Forces.
After initial training, he was sent to Ontario, Canada, where he trained as a navigator and returned to England. As a flying officer, he served in operational missions on the legendary Lancaster bomber in Polish Squadron 300 until the end of WWII.
On August 7, 1947, Anthony married Erica Joyce in Thirsk, Yorkshire, England. They immigrated to the United States through Ellis Island in 1948, settling in the Chicago area. The couple purchased their Elmhurst home in 1963, where Anthony resided until his death.
In 1957, he joined Standard Oil of Indiana (based in Chicago) and worked in various professional capacities through 1973, when he was transferred to Amoco International Oil Company and worked in the vault. Later, he was transferred to Houston in 1981, and continued to work in the vault until his retirement in 1984. Upon his retirement from Amoco after 27 years of service, he focused on his tax and bookkeeping business, which he ran as a successful home-based business for many years.
Anthony was an unforgettable character who was larger than life, family members said. He was as a solid as a rock, dependable as they come, and a friend to all. Many people credit him for getting them on their feet after which they became his loyal, lifelong friends.
He had a head of thick wavy hair and he loved to sing. Anthony was greatly admired for his deep baritone voice, which could overpower a room. He enjoyed classical music, reading, travel—especially to Poland and his vacation condo in Ft. Walton Beach, Fla.—photography, cooking and dining out. He kept his language skills in peak form by reading books and listening to music in foreign languages.
Loving husband to his late wife, Erica, who passed in 2012; proud father of three children: Patricia Horwitz, Michael Parus and Barbara Parus; grandchildren Kevin (Christine Loretta) Horwitz, Jonathan (Nancy) Horwitz and Daniel Max; great-grandchildren Jackson, Timothy and George; three nieces: Dr. Magdalena (Piotr) Kobiak Oleszak, Dr. Hanna Kobiak Jerecka and Jaroslawa (Joe) Fiumara. Anthony was predeceased by his brother Bogumil (Monica) Parus, and by a sister, Dr. Teresa (Piotr) Parus Kobiak. Besides his surviving family members, he leaves behind an extended family and many dear friends, especially Barbara Stawska, who helped take care of him in his final years.
Released from the constraints of his earthly body, Anthony's adventurous spirit is free to explore the universe once again. Everyone who remembers him is asked to celebrate his life in their own way. Raising a glass of a favorite drink in his memory would be quite appropriate.
The family will receive friends at Ahlgrim Funeral Home, 567 S. Spring Rd., on Saturday, Oct. 31, from 10 a.m. until time of Memorial Service at 12 noon. Interment private. Arrangements provided by Ahlgrim Funeral Home. Call (630) 834-3515 or visit ahlgrim.com for more information.